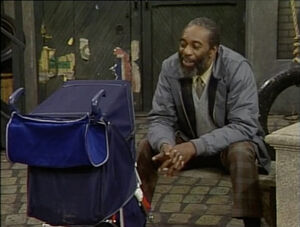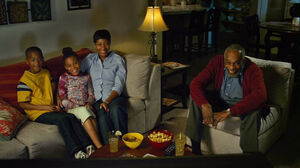 Bill Cobbs (b. 1935) is a veteran character actor in film and television, often cast as mentor figures or weathered old-timers. He guest starred on Sesame Street as Lee, Susan's father. Cobbs also makes a cameo appearance in 2011's The Muppets as a grandfather watching the telethon on TV.
Beginning his film career in the 1970s, Cobbs has appeared in small roles in The Taking of Pelham One Two Three, Trading Places (with Eddie Murphy, Frank Oz, and Richard Hunt, as a bartender), and A Mighty Wind (with Paul Dooley and Michael McKean) as a deadpan blues musician), and more substantial roles in Brother from Another Planet, Air Bud, The Hudsucker Proxy, and Night at the Museum (as an aging security guard, alongside Dick Van Dyke and Mickey Rooney).
His television career began with the children's series Vegetable Soup and included significant collaborations with Ossie Davis and Ruby Dee. Other TV credits include regular roles as Lewis Coleman on I'll Fly Away, Gregory Hines' father James on The Gregory Hines Show, and Elmer Greentree on the science-fiction series The Others, plus guest spots on Good Times, The West Wing, Enterprise, and ER.
External links