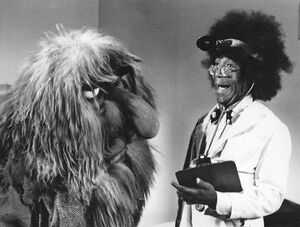 Bill Cosby (b. 1937) is a former comedian who got his start making appearances on the likes of The Jack Paar Show, and became best known for headlining eight seasons of The Cosby Show.
Cosby frequently appeared with the Muppets, particularly through Sesame Street, where he appeared in several inserts filmed during 1970. This led to a regular stint in the first season of The Electric Company, a follow-up series from Children's Television Workshop aimed at older children. Many of his segments on that series, such as twins (via split-screen) pairing off word sounds, were reminiscent of the Sesame Street skits. His other children's work included the animated series Fat Albert and recurring appearances on Captain Kangaroo in "Picture Pages" segments.
In 1975, he played a doctor opposite Sweetums in the Cher variety series. He served as host of the TV special Sesame Street: 20 and Still Counting in 1989; in one segment, in reference to his frequent billing in certain productions as "Dr. William H. Cosby, Jr., Ed.D.", Oscar the Grouch refers to him as "Ph.D. Face." The following spring, in 1990, several Muppets from The Jim Henson Hour appeared on the Cosby Show episode "Cliff's Nightmare." He hosted Big Bird and Loretta Long in an episode of the You Bet Your Life revival series, and featured in an installment of My Favorite Sesame Street Moments in 2004. In 1999, Elmo had a brief cameo on his show Cosby.
Sesame Street segments
References
External links