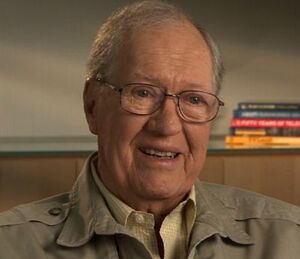 Bill Davis (1931-2014) was a television director who specialized in variety shows and specials. He directed episodes of The Jimmy Dean Show (including Rowlf's segment) and every episode of The Julie Andrews Hour (including the 1973 guest spot by the Muppets). He directed the 1974 special Out to Lunch, featuring the Sesame Street Muppets and the cast of The Electric Company, and the 1975 Julie Andrews special One to One.
The Jimmy Dean Show was Davis' first job in American television, after working for the CBC. He described the experience in a 2013 interview:
"

Jimmy Dean was nuts in a way, and we used to rehearse in his office. Jim Henson had the puppet on his arm... Jimmy would insist.. he didn't want to see Jim Henson. He insisted Jim Henson hide behind the couch. This is in rehearsal. It seems crazy, but Jim had to crouch down. He's a big, tall guy. He had to crouch down behind this little couch and hold Rowlf up and Jimmy would talk to Rowlf. Jimmy would get right into it. He really made Rowlf real and every now and again, he would get mad at him and hit him. He would hit Rowlf in the face. It was just an image. You had to be there.[1]

"
Davis won an Emmy in 1973 for Outstanding Directorial Achievement for one of his Julie Andrews Hour episodes, and another in 1975 for the special An Evening with John Denver (one of several he directed with Denver). He was also the regular director on Hee Haw for many seasons and directed The Smothers Brothers Comedy Hour, The Jonathan Winters Show, Cher, the special Sinatra and Friends the Marlo Thomas special Free to Be... You & Me, Solid Gold, and the special Lily: Sold Out.
Outside of variety shows, Davis directed the premiere episode of Barney Miller and episodes of Welcome Back, Kotter and Head of the Class. His last TV credit was Lamb Chop's Special Chanukah (1995).
External links
Sources
↑ Archive of American Television video interview with Bill Davis. 2013
Community content is available under
CC-BY-SA
unless otherwise noted.