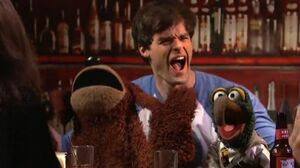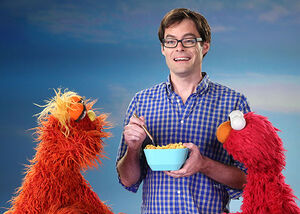 Bill Hader (b. 1978) is a comedian, producer, writer, and a cast member on Saturday Night Live. He also played supporting roles in Forgetting Sarah Marshall (with Jason Segel) and Night at the Museum: Battle of the Smithsonian (as George Armstrong Custer).
During the Muppets' appearance on Saturday Night Live on November 19, 2011, Hader danced alongside Rowlf and Gonzo in the "Massachusetts Afternoon" sketch. At the end of the broadcast, he hugged Scooter, Fozzie Bear, and Camilla the Chicken. On SNL, he has also imitated Animal in several sketches.
Hader appeared on Sesame Street during season 45, explaining the word "grouchy" with Elmo and Murray in a Word of the Day segment.
He provided the voice for the Mystic Wanderer, UrGoh, in The Dark Crystal: Age of Resistance.
External links