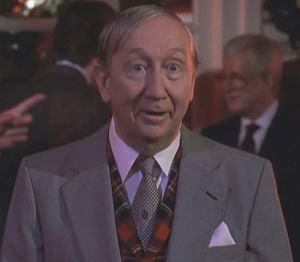 Bill McCutcheon (May 23, 1924 - January 9, 2002) played Uncle Wally on Sesame Street from 1984 to 1992.
Born in Russell, Kentucky, McCutcheon majored in drama at Ohio University, and moved to New York City in the 1940s, working for bandleader Freddy Martin as a trumpet player. He performed at clubs and on Broadway in the 1950s. He also began work in commercials during this period and played Dropo in the low-budget comedy fantasy Santa Claus Conquers the Martians, which later became a cult favorite through airings on Mystery Science Theater 3000.
Prior to joining the cast of Sesame Street, McCutcheon had worked with Bob Keeshan on the television series Mister Mayor and on Captain Kangaroo (as Mr. Homans in 1965). During the 1980s, he appeared in several Broadway revivals, including You Can't Take It With You (as Mr. DePinna), The Front Page (as Mr. Pincus), The Man Who Came to Dinner (as John), and Anything Goes. His appearance as Moonface Martin in the latter netted a Tony Award for Best Featured Actor in a Musical in 1988. Later film roles included appearances in Vibes (with Jeff Goldblum), Steel Magnolias (as Shirley MacLaine's beau), Tune in Tomorrow (with Peter Falk) and Mr. Destiny (with Michael Caine).
See also
External links
Community content is available under
CC-BY-SA
unless otherwise noted.