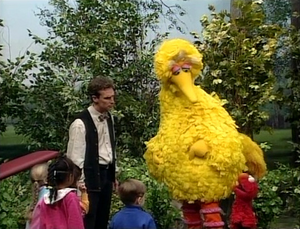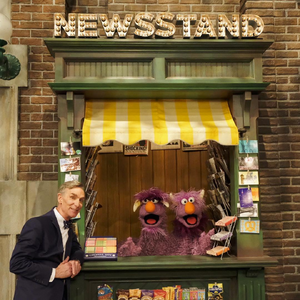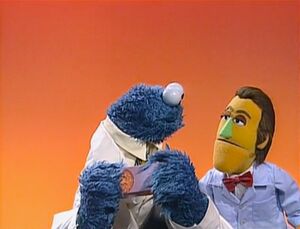 Bill Nye (born William Sanford Nye, 1955) is an American comedian, science educator, and mechanical engineer best known as "Bill Nye the Science Guy." He hosted the PBS children's show Bill Nye the Science Guy from 1993-1997, and continues to host many science related shows today.
Nye appeared in Episode 3760 of Sesame Street, demonstrating the science of see-saws for Big Bird, Elmo and the kids.
Nye re-visited the show in 2017, taping material for Season 49.[1]
Nye appeared in the live-action segments of Back to the Future: The Animated Series as an assistant to Dr. Emmett Brown (played by Christopher Lloyd). He has appeared as his Science Guy persona at the Walt Disney World attractions Universe of Energy (with Ellen DeGeneres and Alex Trebek), the DINOSAUR attraction, and CyberSpace Mountain. He also made a guest appearance on The Mickey Mouse Club's Anything Can Happen Day, and is a regular expert life line on Who Wants to Be a Millionaire.
References
Sources
↑ @sesamestreet on Instagram: "Look who stopped by the newsstand, the one and only @billnye! #Season49"
External links