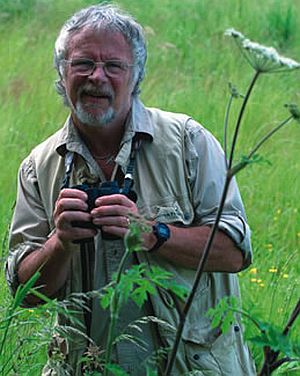 Bill Oddie (b. 1941) is an English comic actor, writer, author, songwriter and environmental activist who served as a staff writer on The Animal Show and contributed song lyrics. Oddie is particularly known for his knowledge of birds.
Oddie began his successful career in British comedy at Cambridge, where he appeared in the revue A Clump of Plinths, along with fellow undergraduate John Cleese. The popular revue was renamed Cambridge Circus and moved to a West End theater, and then to New Zealand and finally Broadway in 1964. Meanwhile, still as an undergraduate, Oddie began writing scripts for the BBC TV series, That Was the Week That Was.
In 1965, many of the Cambridge Circus cast members (including Oddie and Cleese) began a radio comedy series, I'm Sorry, I'll Read That Again, which became a smash hit and ran through 1973. Oddie's comic songs were a highlight of the program, and he wrote at least one new song a week for the run of the show. As the show came to an end in the early 70s, Oddie and two other cast members created the surreal TV sitcom The Goodies, which ran for nine seasons.
Concurrent with his acting and writing endeavors, Oddie has established himself as a noted ornithologist, authoring the books Bill Oddie's Little Black Bird Book, Gone Birding, and Birdwatching with Bill Oddie, as well as presenting various bird-themed TV programs and other nature series. He served as host of Ask Oddie, an ecology series aimed at children. As a wildlife conservationist, Oddie has served as a council member of the Wildfowl and Wetlands Trust and other organizations and represented the World Wildlife Fund, Friends of the Earth, and BirdLife International, among others. He currently serves as vice-president of the League Against Cruel Sports, which campaigns against pleasure hunting and other blood sports. In 2003, for his work as a conservationist, Oddie was awarded the Order of the British Empire.
External links
Community content is available under
CC-BY-SA
unless otherwise noted.