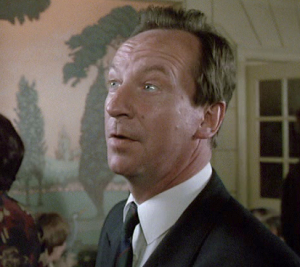 Bill Paterson (b. 1945) is a Scottish-born character actor who has been active in the British film and television industry since the 1970s. Paterson played the boorish Mr. Jenkins in the Creature Shop film The Witches.
Paterson's film credits include The Ploughman's Lunch, The Killing Fields, The Adventures of Baron Munchausen, and Chaplin. In television, Paterson starred as Jack Lithgow in Traffik, the detached psychiatrist Dr. Gibbon in The Singing Detective (opposite Michael Gambon), and currently stars as Dr. Douglas Monaghan on the drama series Sea of Souls. For BBC radio, Paterson has twice been involved with The Hitchhiker's Guide to the Galaxy franchise, playing Arcturan Number One in the first episode of the second series (1978) and a more substantial role as Rob McKenna, the Rain God, in the 2005 "Quandary Phase" episodes.
Paterson also works as a documentary narrator. Mostly on history documentaries. These include The Unity Theatre Trust's video film The Story of Unity Theatre (about London's main contribution to the workers theatre/group theatre).
External links