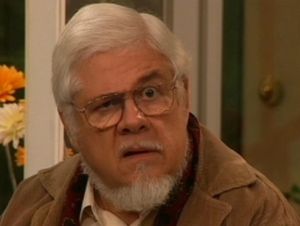 Bill Ramsey is an American singer, often in the jazz field, who achieved celebrity in Germany through recordings, concerts, and film appearances. In 2000, he guest starred on Sesamstrasse (the German co-production of Sesame Street) as Alex's music teacher.
Enlisting in the army during the Korean War, Ramsey was stationed in Germany in the 1950s and performed and produced programming for the Armed Forces Network. He also performed in clubs and established a reputation as a jazz vocalist. In 1955, he made his film debut in the Peter Alexander movie Liebe, Tanz und 1000 Schlager. Although he returned to the states at the end of 1955, he permanently relocated to Germany in 1957. He recorded German versions of American pop hits (by Elvis Presley and others) as well as original German compositions. Many of his later recordings were in English. Film credits include the 1964 Lex Barker Western Old Shatterhand (released in English) and for the German dub of Cat Ballou, he dubbed Nat King Cole.
References
Community content is available under
CC-BY-SA
unless otherwise noted.