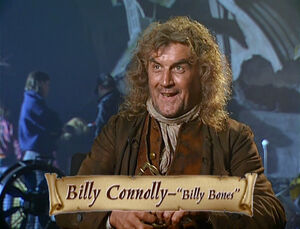 Billy Connolly (b. 1942) is a Scottish stand up comic and actor who played Billy Bones in Muppet Treasure Island. He reprised the role in the CD-ROM game.
Making a transition from stand-up to television and films, Connolly has appeared in Lemony Snicket's A Series of Unfortunate Events (with Jim Carrey, Meryl Streep, and Craig Ferguson), White Oleander (with Michelle Pfeiffer and Noah Wyle), and has done voice-over work for Disney's Pocahontas (with Mel Gibson), Open Season (with Jane Krakowski), and Pixar's Brave.
Connolly has also joked he's the only man ever to have died in a Muppet movie.[1]
Sources
↑ Billy Connolly Live 2002, stage tour in Dublin
External links