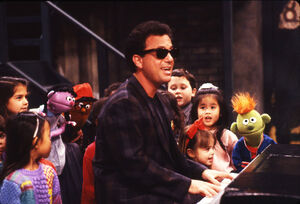 Billy Joel (b. 1949) appeared on Sesame Street during Season 20 (1988), singing "Just the Way You Are" with Marlee Matlin for Oscar the Grouch. He also sang "The Alphabet Song" to the Anything Muppets on the program.
His song, "New York State of Mind," was performed by Floyd in episodes 209 and 301 of The Muppet Show and by Rowlf on the album Ol' Brown Ears is Back.
In the video Do the Alphabet, part of Big Bird's method of learning the alphabet is impersonating Joel and his performance of "The Alphabet Song" follows. Baby Bear dons a pair of sunglasses and is given a piano to replicate this appearance.
Mentions
Sesame Street is referenced in the 1982 song "Pressure," which Joel wrote before appearing on the program in 1988. The subject of the song, a naïf who is having trouble handling pressure, is described as "All grown up and no place to go / Psych 1, Psych 2, What do you know? / All your life is Channel 13 / Sesame Street / What does it mean?"
External links