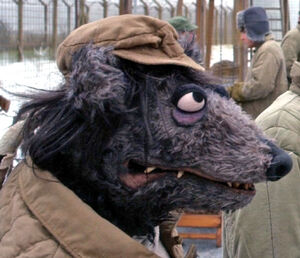 Black Dog is a pirate in Muppet Treasure Island. Allied with Blind Pew, this vicious canine leads the raid on the Admiral Benbow Inn, in search of Billy Bones' map. A rather cruel pirate, he threatens Gonzo and Rizzo with threats of death. However, soon Black Dog and his men are fleeing with Gonzo and Rizzo from an ignited trail of gun powder. He eventually is cornered by the trail and is blown through the inn's roof by an explosion.
He also appeared as a member of the Flying Monkeys in The Muppets' Wizard of Oz, and a Gulag inmate in Muppets Most Wanted.
Literary Source
In the original Treasure Island, Black Dog is the nickname of a pirate, "a pale, tallowy creature, wanting two fingers of the left hand" who "was not sailorly, and yet he had a smack of the sea about him too." Preceding Blind Pew, he is the first to track Billy Bones to the Inn, meeting to discuss the issue of the map first, but Bones drives Black Dog out, "in full flight... streaming blood from the left shoulder." The Muppet version takes the description literally, turning the character into a black-furred canine.