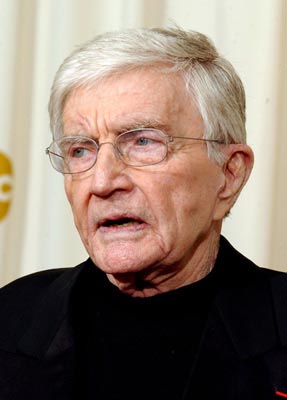 Blake Edwards (1922-2010) was a film director, writer, and producer known for his work in comedy, notably The Pink Panther franchise (which introduced Peter Sellers as Inspector Jacques Clouseau). Husband of Julie Andrews, Edwards served as executive producer of the 1973 special Julie on Sesame Street, and directed and co-wrote the 1975 special Julie: My Favorite Things, both of which had Muppets as guest stars.
Edwards began his career on radio, as creator, writer, and later director of the tongue-in-cheek series Richard Diamond, Private Detective, from 1949 until 1952. He later worked on the TV series Peter Gunn. His other film credits include Breakfast at Tiffany's, Operation Petticoat (with Cary Grant), The Great Race (with Jack Lemmon), The Party (with Peter Sellers), S. O. B., Micki + Maude, and Victor/Victoria.
External links
Community content is available under
CC-BY-SA
unless otherwise noted.