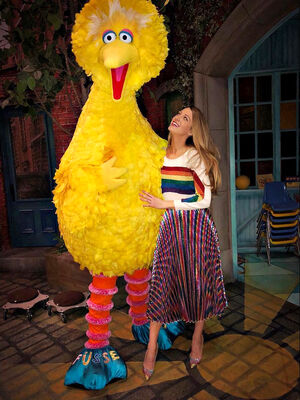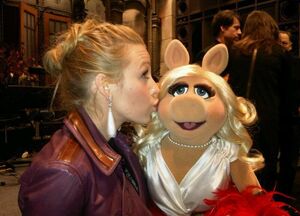 Blake Ellender Lively (b. 1987) is an actress most well known for appearing on TV in Gossip Girl, and in the Sisterhood of the Traveling Pants movies as well as Oliver Stone's Savages (with Salma Hayek), The Town (with Jon Hamm), The Private Lives of Pippa Lee (with Julianne Moore), and Green Lantern (with Ryan Reynolds).
She appears as a delivery person in the Sesame Street special When You Wish Upon a Pickle. She shared a photo of herself and Big Bird from the set on Instagram, captioned "Still geeking out...Kids used to make fun of me in elementary school by calling me Big Bird (because I was "too tall" and had "yellow" hair). Here's to making best buddies with the things that once hurt you."[1] Lively was also featured in the celebrity montage doing the "Happy Dance" from "Elmo's World." (First: Episode 4904)
During the production of the November 19, 2011 episode of Saturday Night Live, she appeared backstage with Miss Piggy and posed for a photograph.
References
On August 10, 2017, Uncle Deadly tweeted, "If anyone is looking for TV show pitches, I've got one. It's called Life & Death and stars @blakelively and me, Uncle Deadly." [1]
Sources
External links
Community content is available under
CC-BY-SA
unless otherwise noted.