DEBUT
1999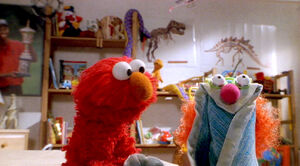 Elmo's Blanket is featured prominently in The Adventures of Elmo in Grouchland.
Elmo is devoted to his blue blanket, who appears in the opening scenes as a sentient being, dancing and playing with his owner, and later as a prop.
While Elmo's blanket was primarily featured in the movie, it has appeared on Sesame Street, such as in Episode 4063.
Book appearances
See also