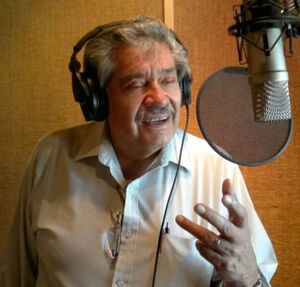 Blas García is a Mexican voice actor who dubbed Ebenezer Scrooge in Una Navidad con los Muppets (The Muppet Christmas Carol) and Billy Bones in Los Muppets en la Isla del Tesoro (Muppet Treasure Island). He also dubbed characters in Creature Shop-effects projects, including Prostetnic Vogon Jeltz in The Hitchhiker's Guide to the Galaxy.
The deep-voiced García has been the primary Spanish voice of Sylvester Stallone, Samuel L. Jackson, Arnold Schwarzenegger, Danny Glover, and Clint Eastwood. He also dubbed Patrick Stewart on the last two seasons of Star Trek: The Next Generation and in the Trek movies, Tommy Lee Jones in the Men in Black films and others, Robbie Coltrane in the Harry Potter movies, Donald Sutherland in The Hunger Games movies, and Christopher Lee in The Lord of the Rings and Hobbit film series.
In animation, García voiced Eeyore in the Winnie the Pooh franchise, Foghorn Leghorn in Looney Tunes: Back in Action and other projects, Goliath on Gargoyles, and the Horned King in The Black Cauldron. Video games include Assassins Creed: Unity and Fable III.