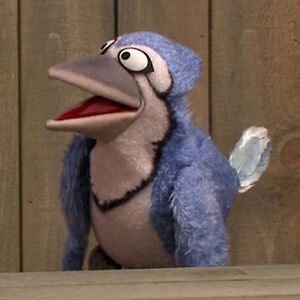 Blue Jay is a bird who appeared on Sesame Street in episode 4265 ("The Good Birds Club"). He initially bullies Big Bird but later becomes his friend.
He appeared in Happy to Be Me: An Anti-Bullying Discussion, and on FOX News and CNN with Big Bird and Rosemarie Truglio to discuss the episode.
In the episode, he was performed by Matt Vogel. In the outside TV appearances relating to the episode, he was performed by Joey Mazzarino.
The same puppet had previously appeared in Elmo's World: Birds and in Episode 4221, when Abby and Elmo mistake him for a Pigeon.
A version of this Blue Jay, with female eyes, appears in a Super Grover 2.0 segment about pulleys in 2010.