(23 intermediate revisions by one other user not shown)
Line 1:
Line 1:
 

[[File:Jh_ktf_bluepeter.jpg|thumb|300px|Jim Henson and Kermit the Frog on ''Blue Peter'' in 1986]]

 

[[File:Jh_ktf_bluepeter.jpg|thumb|300px|Jim Henson and Kermit the Frog on ''Blue Peter'' in 1986]]

⚫
 
 
 
 
⚫
⚫
 
 
+
 
⚫
 
 
 

==Appearances==

 

==Appearances==

−

*1983 - [[Louise Gold]], [[Tim Jones]] and [[David Barclay]] perform [[Skeksis]], [[Fizzgig]] and [[Podlings]] for the UK premiere of ''[[The Dark Crystal]]''.

+

*1983 [[Louise Gold]], Tim Jones and [[David Barclay]] perform [[]] the UK premiere of ''[[The Dark Crystal]]''.

 
+
−

*September, 22th 1986 - Jim Henson and Kermit the Frog guests.

 
 
+

* September 22, 1986 — [[Jim Henson]] and [[Kermit the Frog]] appear. Henson shows how Kermit works with rods on his arms and they discuss ''[[Muppet Babies]]'' followed by a clip.

⚫
 
 
+
⚫
 
 
+

* May 16, 1990 — A tribute to Jim Henson by showing his ''Blue Peter'' interview from the September 22, 1986 show.

⚫
 
 
+
 
+

* December 10, 1992 — Behind the scenes of ''[[The Muppet Christmas Carol]]''. [[Gonzo]] narrates the feature. [[Karen Prell]] performs [[Aretha]] singing carols. [[Polly Smith]] talks about the costumes. [[Fozzie Bear]] talks to presenter. [[Rizzo the Rat|Rizzo]] points her in the right direction to find [[Kermit the Frog|Kermit]]. Presenter Dianne Louise Jordan finds Kermit and interviews him. [[Michael Caine]] talks about the movie and [[Bean Bunny]]'s scene being his favorite part.

 
+
 
⚫
 
+
 
+

* 1995 — Promotion for ''[[Jim Henson's Muppets Monsters and Magic]]'' with Muppet puppets in the ''Blue Peter'' studio.

 
+
 
⚫
 
+
 
+

* April, 2006 — Kermit (dressed as [[Reporter Kermit]]) reporting the London Marathon.

 
+
 
+

* October 10, 2007 — [[Miss Piggy]] guests.

 
+
 
+

* February 9, 2012 — Kermit and Piggy give [[Valentine's Day]] tips.

 
+
 
⚫
 
 
 

==External links==

 

==External links==

−

*[[http://www.bbc.co.uk/cbbc/bluepeter/ Official Site]]

+

*[http://www.bbc.co.uk/cbbc/bluepeter/ Official Site]

 
+
 
⚫
 
 
 
+

__NOWYSIWYG__

⚫
 
 

[[Category:International TV Appearances]]

 

[[Category:International TV Appearances]]

−

[[Category:TV Appearances]]

 
---
Latest revision as of 11:43, 17 March 2020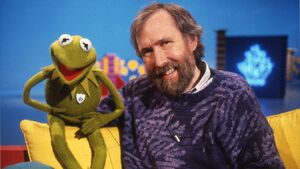 Blue Peter is a long-running BBC television program for children that has been airing since October of 1958.
It is named after the blue-and-white flag hoisted by a ship in port when it is ready to sail. The reasoning behind the choice of title is that the program is intended to be a voyage of adventure and discovery for the viewers, constantly covering new topics.
Appearances
May 16, 1990 — A tribute to Jim Henson by showing his Blue Peter interview from the September 22, 1986 show.
April, 2006 — Kermit (dressed as Reporter Kermit) reporting the London Marathon.
External links