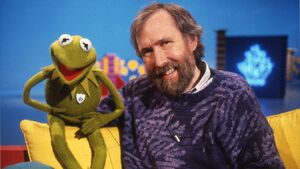 Blue Peter is a long-running BBC television program for children that has been airing since October of 1958.
It is named after the blue-and-white flag hoisted by a ship in port when it is ready to sail. The reasoning behind the choice of title is that the program is intended to be a voyage of adventure and discovery for the viewers, constantly covering new topics.
Appearances
1983 - Louise Gold, Tim Jones and David Barclay perform three Podlings doing a podling dance on the evening of the UK premiere of The Dark Crystal. The performers, and how they operate the characters, are shown.
September 22, 1986 - Jim Henson and Kermit the Frog guests. Jim shows how Kermit works with rods on his arms and they discuss Muppet Babies then show a clip.
May 16, 1990 - A tribute to Jim Henson by showing his Blue Peter interview from the September 22, 1986 show.
December 10, 1992 - behind the scenes of The Muppet Christmas Carol. Gonzo narrates the feature. Karen Prell performs Aretha singing carols. Polly Smith talks about the costumes. Fozzie talks to presenter. Rizzo points her in the right direction to find Kermit. Presenter Dianne Louise Jordan finds Kermit and interviews him. Michael Caine talks about the movie and Bean Bunny's scene being his favorite part.
March 31, 1994 – Behind the scenes of The Secret Life of Toys
1995 - Promotion for Jim Henson's Muppets Monsters and Magic with Muppet puppets in the Blue Peter studio.
1996 – Behind the scenes of Muppet Treasure Island.
April, 2006 - Kermit (dressed as Reporter Kermit) reporting the London Marathon.
October 10, 2007 - Miss Piggy guests.
February 9, 2012 - Kermit and Piggy give Valentine tips.
March 27, 2014 - behind the scenes of Muppets Most Wanted.
External links
Community content is available under
CC-BY-SA
unless otherwise noted.