ATTENTION
TALK PAGES ARE NO LONGER USED
To discuss article changes, please use:
If you see comments on this page, they remain for archive purposes.
NEWLY ADDED COMMENTS WILL BE REMOVED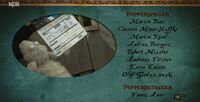 I'm not sure he is credited on Sesamstrasse (which often has few on-screen credits, although that may have changed now; they put most of the performer names and bios on the website instead). But he is on the assorted spin-offs and specials. Here's a screengrab I took of the credits for Der Schatz des Käpt'n Karotte. He's credited as Morar-Haffke there (and most likely, on the others).
Looking at older NDR and Studio Hamburg press releases/bios and more recent ones it's a situation where they made a change later on to how they wanted billing (it's even noted in the history when someone who works on the show made the change in 2010; the official 40th anniversary presskit from 2012 also lists him that way, as has at least one downloadable resume). Assorted voice agency sites list him as Morar-Haffke. On his official site, the 2018 copyright is to "Carsten-Morar Haffke" (which is the only place to put the hyphen there, so likely just a typo).
Community content is available under
CC-BY-SA
unless otherwise noted.