ATTENTION
TALK PAGES ARE NO LONGER USED
To discuss article changes, please use:
If you see comments on this page, they remain for archive purposes.
NEWLY ADDED COMMENTS WILL BE REMOVED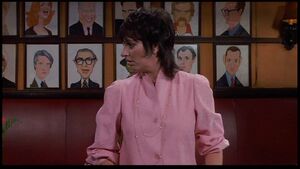 I forgot I had this screenshot, and looking at it, I realized it would be a neat Wiki mining effort to try to ID the caricatures. But outside of Tony Randall (fairly obvious on the far bottom right), I really can't figure anyone else out (a few look familiar, but I can't be sure). This is probably mostly for someone like Nate next time he checks in, but if anybody can help, please do.
For referencing help, here's Wikipedia's list of people whose caricatures hang in Sardi's, but without more time to do a one by one elimination, I haven't found it that helpful.
Community content is available under
CC-BY-SA
unless otherwise noted.