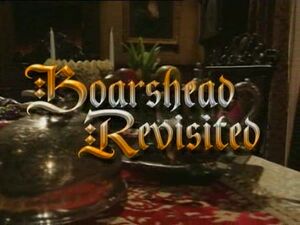 Boarshead Revisited was a recurring segment seen in the second season Muppets Tonight. The sketches were a follow-up to the first season's The Tubmans of Porksmith; and once again featured the comical misadventures of Howard Tubman (a rich food-loving pig) and Carter (his dry-witted butler).
These segments were produced as UK spots, and were not intended to be included in the American broadcasts of the show on ABC, but they ultimately aired on The Disney Channel.
The sketches' title is a spoof of Evelyn Waugh's 1945 novel Brideshead Revisted. An announcer introduces each segments as "Muppet Classic Theater Presents Howard Tubman in Boarshead Revisited."

Sketches
Picture
Title / Episode
Description

Applebutter and Applebutterability

---

Episode 202: Rick Moranis
Howard has been devouring his jars of apple butter at a tremendous pace. When Carter enters, Howard announces that he's only just realized how enormously fat he is, and demands that the butler hide the last jar and not tell him where it is regardless of how much he begs. Carter conceals the jar as requested, but Howard immediately changes his mind and asks for it. The butler holds to his vow and refuses to share the location, so Howard decides he'll simply tear the room apart to find it--and has Carter do just that for him. When the room is destroyed, Howard offers Carter "his first day off in forty years" to blab, and Carter finally reveals that the apple butter is taped to Howard's back. Unfortunately, he decides to take his day off right away, and Howard is left literally spinning in circles to try to recover the snack.

Steam and Steamability

---

Episode 208: The Cameo Show
Howard enters an old-fashioned steam machine in an attempt to shed excess pounds without exercise. After a brief bout of claustrophobia, he starts to enjoy the sensation, and demands that Carter increase the heat to dangerous levels. The butler reluctantly complies, and the machine soon blows up. After the smoke clears, Howard discovers that his body is now "no bigger than a cocktail weenie"--and decides to eat himself with sauerkraut and mustard. Carter fears that the steam machine must have cooked Howard's brain, but the pig doesn't mind (after all, he loves sweetbreads).
See also