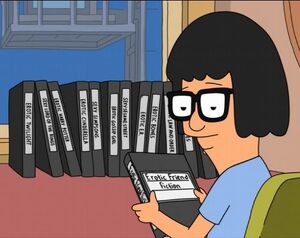 Bob's Burgers is an animated TV series created by Loren Bouchard airing on FOX that premiered in 2011. The series centers on a family who run a hamburger restaurant.
Mentions
In the episode "Bad Tina", Sexy Sesame Street and Erotic Muppets are among the books of romantic fan-fiction that Tina has written.
In the episode "Broadcast Wagstaff School News", Linda refers to her son, Gene -- having cut his hair and glued on a mustache in order to imitate the title character, his father -- as "my Muppet Baby Bobby."
In the episode "Go Tina on the Mountain", when the kids learn that the hermit in the woods is actually faking, Gene refers to her as "Hermit the Fraud".
In the episode "Live and Let Fly", mention is made of three paper airplanes named "Bowfinger", "Dirty Rotten Scoundrel", and "What About Bob". All three are Frank Oz films.
In the episode "Lorenzo's Oil? No, Linda's", Teddy the handyman says that his favorite movie is The Dark Crystal.
Connections