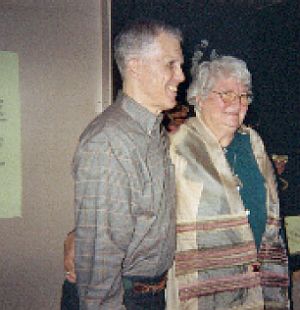 Bob Payne, also credited as Robert Payne and known as "Bobby," was a college friend of Jim and Jane Henson. Payne first worked with the Muppets as a substitute puppeteer on Sam and Friends in 1958, while Jim Henson was in Europe. He subsequently designed and built several characters on The Muppet Show and other Henson productions, and served as an occasional performer at various times.
Payne received special credit as a historian on The Muppets: A Celebration of 30 Years. He also appeared in four 1974 episodes of Mister Rogers' Neighborhood as a puppeteer with Bob Brown's marionette company.[1]
Puppeteer credits
Mirinda commercials: Mirinda Craver (puppetry only)
The Muppet Show: "Scarborough Fair" Tumblers (with Kathryn Mullen, episode 511), Frogs (episode 523),[2] others (episode 314, episode 407)
Sesame Street: Telly Monster (1979), Bertha, Building Inspector, Chet, Cousin Monster (at least one sketch), Eugene, Georgie, Green cowboy ("Try, Try Again"), Judy Finstermacher, Little Bird (Episode 1199), Mary Rhymie, Slimey (Episode 1254), Zebediah
Muppet Meeting Films: Roll in "Meal Break"
The Dark Crystal: Skeksis Historian (puppeteer)
Design credits
Sources
↑ Finch, Christopher. Of Muppets and Men, 1981.