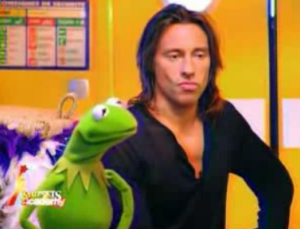 Bob Sinclar (b. 1967, real name Christophe Le Friant) is a French record producer and DJ. He began his career in 1986, creating funk and hip-hop music, borrowing vocals from a Jane Fonda fitness tape. His music relied heavily on sampled music and filtered disco strings. His track "I Feel for You," from his second album, became a hit in the UK, ranking #9 out of the top 40.
In 2005, he released the song "Love Generation." The record became #1 of the German record charts in early 2006, and was Goleo VI's official song for the 2006 FIFA Soccer Worldcup in Germany.
The same year, Sinclar guest starred in the second episode of Muppets TV. Sinclar oversees auditions by various Muppets, including Gonzo, hoping to impress him with their DJ skills.
Community content is available under
CC-BY-SA
unless otherwise noted.