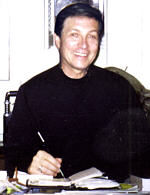 Bob Taylor (also known as B.K. Taylor) is a cartoonist and writer whose work has most prominently been seen in the comics of National Lampoon magazine.
Taylor provided drawings for the 1973 Sesame Street character style guide, and illustrated four stories in The Sesame Street 1, 2, 3 Storybook: "Sherlock Hemlock in "The Mysterious Stranger", "Sam Shows Big Bird Five", "Goldie-Snuffle and the Seven Bears", and "Grover Buys Ten Balloons". The following year, he provided illustrations for Sesame Street Magazine.
He was credited as a "Muppet Creative Consultant" (with Mike Frith) on The Muppet Show: Sex and Violence, and has been credited[1] as assisting on the design for Dr. Teeth who was created for that pilot.
Taylor is credited (again with Frith, and John Stevenson) for "Character Design" on Jim Henson's 1987 concept pitch Inner Tube.
Sources