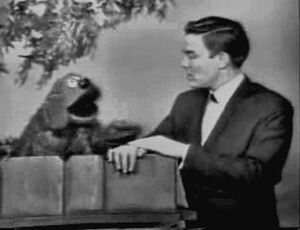 Bobbie was a big bulldog who terrorized Rowlf in a 1964 sketch on The Jimmy Dean Show. Bobbie was always picking fights and pushing Rowlf around. At least twice a day, Rowlf would get socks in the eyes. He tried turning the other cheek, which only resulted in going home with a lumpy cheek. Once Rowlf tried to open his mouth and laugh at the problem; that day, he went home with a toothless mouth (and a lumpy cheek). As a result of Bobbie's bullying, Rowlf tried to learn karate.
Jimmy convinces Rowlf he is "flabby and weak" and that violence is not the solution. However, Rowlf reveals his secret weapon when he gives Jimmy the bite. Jimmy says he's finally found a way to beat Bobbie - "bite him." Rowlf then reveals that Bobbie is not a "him," Bobbie (short for Barbara) is a girl.
See also
Community content is available under
CC-BY-SA
unless otherwise noted.