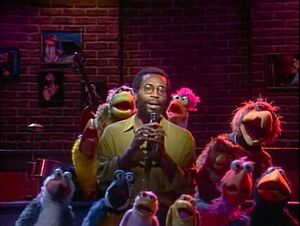 Bobby McFerrin (b. 1950) is a jazz musician best known for the song "Don't Worry, Be Happy." He employs a unique musical style, in which he performs all the vocal and instrumental parts on his recordings with his own voice.
McFerrin guest starred on The Jim Henson Hour episode 105, and The Ghost of Faffner Hall premiere episode "Your Body is an Instrument".
On Sesame Street, he performed a scatting game, "Tweetin' High and Low" (First: Episode 2355) and also "Tweet in the Mornin" in Episode 2874. He also sang the alphabet for Hoots the Owl, David and the Kids (First: Episode 2342).
Additionally, an edited version of McFerrin's song "Simple Pleasures", from his 1988 hit album of the same name, appeared in a Sesame Street film segment of a girl playing catch with a dog on the beach. (First: Episode 2876)
References
External links