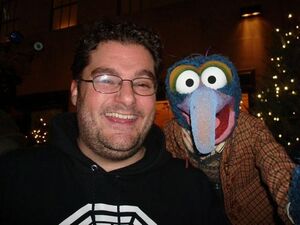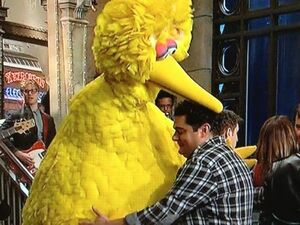 Bobby Moynihan (b. 1977) is a cast member on Saturday Night Live. On SNL, he imitated Gonzo in several sketches. He guest starred in a season 43 episode of Sesame Street as the Quacker Duck Man.
During the closing of the October 6, 2012 broadcast of Saturday Night Live, Moynihan can be seen among the crowd of cast members interacting with Big Bird, who made a cameo appearance on the show. On November 10, 2015, Moynihan renewed his friendship with Big Bird in a Funny or Die video (with Big Bird as the company's intern).
In 2014, Moynihan moderated the Sesame Street panel, "Making Learning a Funny Affair," at Lincoln Center. In 2017, he served as the guest star for The Muppets Take the Bowl concert series at the Hollywood Bowl, and later for The Muppets Take the O2 in 2018. He hosted San Diego Comic-Con 2019 Sesame Street Puppets Live!
Moynihan was a sketch regular on Late Night with Conan O'Brien for a number of years. Other credits include guest spots on the new revival series of The Electric Company and 30 Rock.
External links
Community content is available under
CC-BY-SA
unless otherwise noted.