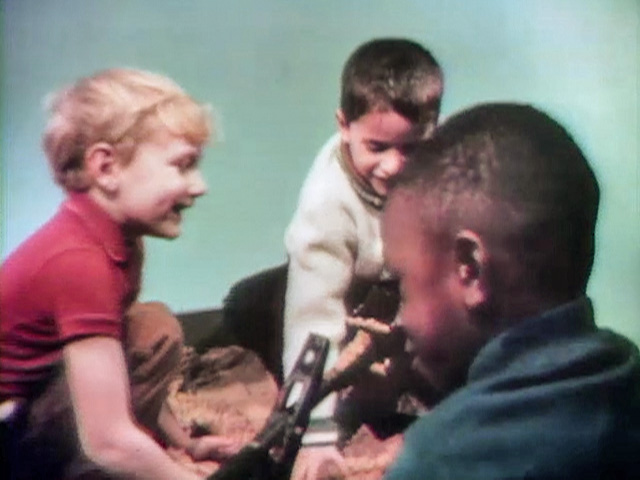 Body Parts vs. Heavy Equipment is a live-action short filmed produced by Jim Henson as an insert for the third episode of Sesame Street. It was the first non-Muppet film Henson produced for Sesame Street.
The film was shown as part of the Sesame Street Pitch Reel and was first broadcast in Episode 0003.
In the film, three boys (including Henson's son Brian) pretend to be steam shovels, playing in the dirt. This segues into footage of real construction vehicles. A parallel is drawn between the machinery and how the boys' arms and mouths work.
Historical information
Historical information provided by The Jim Henson Company Archivist:[1]
"

The Muppets were, and continue to be, essential to the success of Sesame Street, but Jim's involvement with the show went beyond the creation and performance of his puppets. While current producers have over forty years of materials to choose from when putting together a show, during the first seasons, they were scrambling to have enough street stories, inserts and short films to fill a daily hour-long program. This was a real opportunity for Jim – along with the Muppet bits, he was able to produce short films to teach letters, numbers and other concepts. Building on his experimental film work from the 1960s, he used a range of techniques to create films for Sesame Street including claymation, stop-motion, computer, cut paper, and paint animation as well as live action.

Jim had a lot of leeway in the kinds of things he could produce, although he was presumably given some general guidelines or suggested subjects for his short films. The first one he made was live action and featured his son Brian Henson and another boy pretending to be construction vehicles – they scooped up and pushed around sand in a sandbox and ice cream at the table. Their actions were reflected by earthmoving equipment at a real construction site. One of Jim's original film canisters is labeled "Body Parts vs. Heavy Equipment" which hints that the educational message relates to observing, comparing and contrasting. The footage cuts back and forth from the real to the pretend and reflects an editing style that Jim had employed for several projects in the years leading up to 1969. Jim's 1967 short Wheels That Go, made for a film contest at Montreal's Expo '67, is very similar in feel and content; it features a three-year-old Brian playing with wheeled toys and observing wheeled vehicles. Very few people saw that film, but with the start of Sesame Street, Jim was able to channel his filmmaking efforts into projects that found large audiences. "Body Parts vs. Heavy Equipment" aired on November 12, 1969 as part of Sesame Street's third episode."
See also
Sources