Written by
Freddie Mercury
Date
1975
Source
A Night at the Opera (album)
Publisher
B. Feldman and Company
"Bohemian Rhapsody" is a song by the British rock band Queen, which has been performed twice by the Muppets.
Johnny Fiama and Sal Minella performed a parody rendition of the song during the 2005 Jerry Lewis MDA Labor Day Telethon. Sal spills the marinara sauce that Johnny's ma FedExed to the studio, and Johnny and Sal sing a heartfelt apology to Mama Fiama to the tune of "Bohemian Rhapsody."
In November 2009, the Muppets released a rendition of "Bohemian Rhapsody" that was released as an online video on YouTube. The video became a viral hit and received over 10-million views within its first two weeks online. The video was mistakenly removed from YouTube on December 15 "due to a copyright claim by EMI Publishing Scandinavia AB" but returned on the 16th.
The recording used the original instrumental tracks recorded by Queen in 1975, as such the release has been billed as being recorded by "Queen + The Muppets." Brian May, lead guitarist of Queen, responded to questions of Queen's involvement in the video on his website in December 2009, stating:
"

Once the idea for this recording came up, we did supply 'stems' of our own original backing track to the Muppets, so that they could effectively 'sing' with Queen. We don't often do this - it's only because of our respect for these people as artists that we'd do this. I'm sure Freddie would feel the same way ... some projects are just worthy of a proper collaboration. So .. yes .. you are hearing us play on this track - including Freddie's magnificent piano track, of course. I think it makes it all the more funny! After they'd done their bits we got the track back to OK ... I immediately thought it was brilliantly done, but I had no idea it would light such a huge bush fire. Amazing.

"
In a 2010 interview with The Washington Post, director Kirk Thatcher said the video was "very much a group effort," and was shot in a single day on a soundstage in North Hollywood with a troupe of about 20 people.[1]
The 2009 cast rendition of the song was released as a single on Amazon.com and the iTunes Store in mid-December 2009. The single was released internationally on December 14, and in the US on December 15th. The online video was also released as a music video for purchase as well.
Additionally, the video for the song received airplay as a music video on Disney Channel, both within the U.S. and internationally. It was later re-released on YouTube with Kermit and the Muppets providing an audio commentary on the video.
On December 31, 2011/January 1, 2012, the video was projected onto the mist screens along the Rivers of America at Disneyland as one of the "Random Acts of Disney" during the park's New Years Eve party. (YouTube)
Cast
The 2009 YouTube video features a full cast of Muppets, including (in order of appearance):
The Muppet Performers: Steve Whitmire, Dave Goelz, Eric Jacobson, Bill Barretta, David Rudman, Matt Vogel
Musicians: Freddie Mercury (piano), Brian May (guitar), John Deacon (bass), Roger Taylor (drums)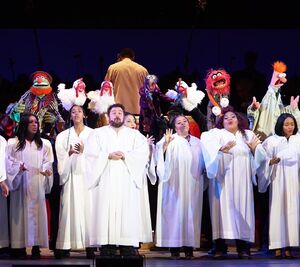 The Muppets performed a variation of their 2009 version of the song to open the second act of the concert. Gonzo, the chickens, Animal, Beaker, Dr. Teeth and Miss Piggy all retain their solos, some with new lyrics. Bobby Moynihan, Sweetums, and Fred Martin and the Levite Camp Choir accompany.
References
In The Muppet Show Comic Book: Family Reunion, Dr. Bunsen Honeydew hooks Beaker up to the Genebuster to discover one of Beaker's unknown relatives. As the Genebuster starts to work, Bunsen says, "I see a little silhouette, it's of a man..." Beaker chimes in, crying out a rhythmic "Meep meep meep! Meep meep meep! Meep meep meep meep meep meep meep..." Bunsen: "Thunderbolts and lightning! Very very frightening..." "Meep!" Bunsen: "Gary Mayo! Gary Mayo!" "Meep meep meep meep! Meep meep meep meep!" "Gary Mayo!" "Meep meep meep meep?" "Magnifico!" Following the departure of Gary Mayo, Bunsen shrugs and says, "Ah well. Easy come, easy go."
Sources
External links