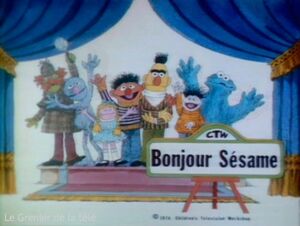 Bonjour Sesame was the first French translation of Sesame Street, debuting on French national television in September 1974. (Not to be confused with a Canadian show of the same name.)
The show took only 15 minutes in a large block and was entirely a translation of clips from the American show, and was composed of about 65% puppet sequences, 25% animated cartoons and 10% live action sequences. It aired together with another children's program called L'Île aux Enfants, which was known for its dinosaur mascot character, Casimir.
The French names given to Muppet characters included Bart (Bert), Ernest (Ernie), Macaron (Cookie Monster), Hyacinthe (Herry Monster) and Martoff (The Amazing Mumford).
The show was replaced in 1978 with a French co-production, 1, Rue Sésame.
External links
Community content is available under
CC-BY-SA
unless otherwise noted.