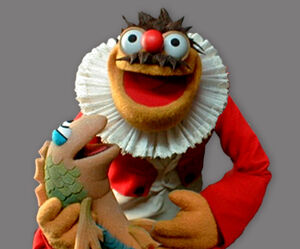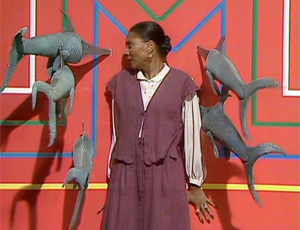 Boomerang Fish are the raison d'être for Lew Zealand, a vaudeville performer who forces his way onto The Muppet Show and refuses to leave. The act is simplicity itself; as Lew explains it, "I throw the fish away, and it comes back to me!"
Lew has performed his boomerang fish act many times, always precisely at the moment when people wish he wouldn't. This includes the "wedding sketch" between Kermit the Frog and Miss Piggy (episode 310, a rare occasion when his presence was appreciated, at least by Kermit), a speech by Spike Milligan on the Intergalactic Brotherhood of Man, Including Things (episode 317) and Leslie Uggams' performance of "Here You Come Again" (episode 318). When the Muppets gather to watch The Muppet Movie, Kermit reminds Lew that he doesn't want to see the boomerang fish in the movie, or at the screening. One particular boomerang fish saw its demise at the end of that film, when Lew presents his fish to Sweetums who eats it.
The idea for Lew's act came about during a meeting of the Muppet Show writers, when Chris Langham was challenged to come up with an idea for the worst vaudeville-style act possible. His answer: "Lew Zealand, Boomerang Fish Thrower."[1]
In episode 524, Lew expanded his repertoire by presenting his "fabulous singing fish", who performed a gurgly version of "You Light Up My Life" as Lew pressed on their heads -- a gentler, piscine version of Marvin Suggs' Muppaphone act.
In The Muppets Celebrate Jim Henson, Lew revealed that the first fish he ever threw was named Connie Sue. Other named fish include:
Sources
↑ Jerry Juhl speaking at BAM's Muppets, Music & Magic, November 21, 2004
Community content is available under
CC-BY-SA
unless otherwise noted.