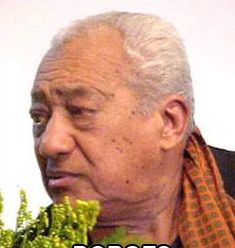 Borges de Barros (ca. 1923-2007) was a Brazilian voice actor who was heard in several Muppet/Creature Shop dubs, usually as elderly and/or crotchety sounding characters: Mr. Skeffington in Os Muppets Conquistam Nova York (The Muppets Take Manhattan), Hoggle in the VHS dub of Labyrinth, Old Major in Animal Farm, and Joe Snow in O Natal Dos Muppets (It's a Very Merry Muppet Christmas Movie).
A key voice of dubbed Brazilian television since the 1960s, de Barros spoke for Jonathan Harris on Lost in Space, Burgess Meredith on Batman, Maurice Evans on Bewitched, and Moe Howard of the Three Stooges. Film dubbing assignments included Bert Lahr in The Wizard of Oz, Everett Sloane in Citizen Kane, Charles Durning in The Sting, John Cleese as Tim the Enchanter in Monty Python and the Holy Grail, and Vincent Price in Edward Scissorhands.
Cartoon credits include Monterey Jack on Chip and Dale's Rescue Rangers, Santa Claus in The Nightmare Before Christmas, Sul-Van on Superman, and a wide range of characters on The Woody Woodpecker Show, including Wally Walrus, Buzz Buzzard, Charlie Beary, and Smedley.