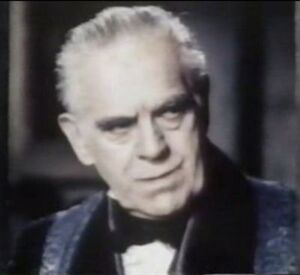 Boris Karloff (born William Henry Pratt, 1887-1969) was an actor who started out in silent films (often as mysterious foreigners) but gained stardom in horror movies, beginning with 1931's Frankenstein (as the monster, which he reprised in two sequels). His trademarks included a gaunt visage and sepulchral speaking voice.
Karloff followed the Frankenstein success in several Universal horror pictures (often billed simply as Karloff), including James Whale's Old Dark House (as a mute butler), The Mummy (the title role), and The Black Cat (the first of several pairings with his screen rival, Bela Lugosi). For Columbia, he did a series of mad scientist films (i.e. The Man They Could Not Hang). Karloff was a frequent presence in associated mystery and thriller films as well, portraying fiendish Dr. Fu Manchu, detective Mr. Wong, and co-starring as the prime suspect in Charlie Chan at the Opera. On Broadway, he spoofed his status in the comedy Arsenic and Old Lace (originating the role of Jonathan Brewster, the criminal brother who plastic surgery has rendered a look alike for horror star Karloff).
In the 1950s, Karloff shifted into television, with frequent appearances on Suspense, starring on Col. March of Scotland Yard, and later hosting the anthology Thriller (1960-1962) and guest starring on I Spy and The Wild Wild West. His later films were often for AIP (frequently directed by Roger Corman), including The Raven and The Comedy of Terrors (both with fellow horror icons Vincent Price and Peter Lorre), The Terror, and cameos in two Beach Party movies. He voiced a stop-motion caricature of himself as Baron Boris von Frankenstein in Rankin/Bass' Mad Monster Party? and, in Peter Bogdonovich's Targets (1968), played with his persona to more serious effect as aging horror actor Byron Orlok. He continued to lend his distinctive voice to records and, most notably, voiced the narrator and the Grinch in the Chuck Jones animated special How the Grinch Stole Christmas.
References
Clips of Karloff from The Terror (1963) are used in the sixth season Muppet Babies episode "Quoth the Weirdo" as Baby Gonzo attempts to complete the poem "The Raven" (which had been Karloff's previous film). Frank Welker dubs Karloff, imitating the actor's usual speech patterns.