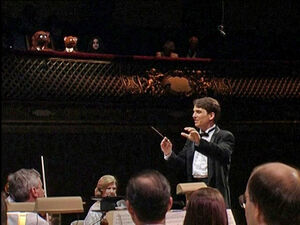 The Boston Pops is one of America's oldest and most famous orchestras. Formed in 1885 as an offshoot of the Boston Symphony Orchestra, the Pops were meant as a venue for lighter and more popular fare as an alternative to what had been considered at the time, a stricter classical music. Each year for the 4th of July celebration, their performance from the Charles River Esplanade Hatch Shell is broadcast live, nationwide.
The Boston Pops were featured in Elmo's Musical Adventure: Peter and the Wolf under the baton of maestro Keith Lockhart. For their appearance, the orchestra can only be seen on stage during the performance sequences which frame the Muppet story that Baby Bear imagines in his head. The soloists featured backstage and in the Peter and the Wolf story were actors hired for the roles of the musicians and are not members of the Boston Pops or BSO.
The Sesame Street cast have appeared with them twice on the Evening at Pops program: in 1971 and 2001. Repeat broadcasts of the 1971 episode feature an introduction by 13-year Pops conductor John Williams, who still serves as Conducter Laureate to this day.
An album of children's favorites was released in the 1970s featuring five selections of Sesame Street songs. Selections from this album, including the Sesame songs, were issued on the CD Wish Upon a Star.
Kermit references the orchestra by name in a joke used in episode 112 of The Muppet Show. A conductor (resembling Arthur Fiedler) with a balloon for a head, conducts a small ensemble and finishes by popping his own head. Hence, "Boston Pops."
Community content is available under
CC-BY-SA
unless otherwise noted.