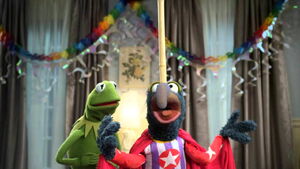 Bounty, a brand of paper towels and napkins made by Procter & Gamble, sponsored a series of web videos released in March 2012 as a tie-in for the debut of the film The Muppets on Blu-ray and DVD. The series, entitled "Kermit's Party", was posted on YouTube by the MuppetsStudio account. The episodes featured Kermit the Frog as the host of a party, along with the Swedish Chef, Gonzo, Dr. Bunsen Honeydew, Beaker, Statler and Waldorf, Big Mean Carl, Pokey, Beautiful Day Monster, Behemoth, Luncheon Counter Monster, Mahna Mahna, the Snowths, Pepe the King Prawn, Camilla, Rizzo the Rat, pink Frackle, purple Frackle, sharks, rats, Whatnots, chickens, and penguins.
On April 2, 2012, the videos were released in Spanish.
Bounty also co-sponsored The Muppets Hollywood Mayhem Blu-ray Sweepstakes with Disney.
Kermit's Party
Episode 1 - Chef's Catering Catastrophe
Episode 2 - Gonzo Stunt Spectacular!
Episode 3 - Bunsen & Beaker: Science Can Be Messy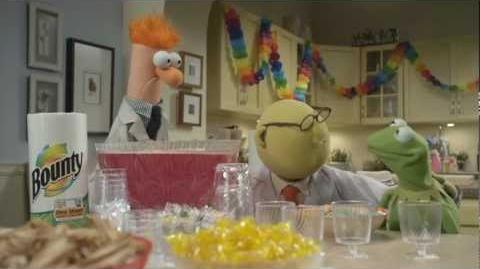 Notes
External links