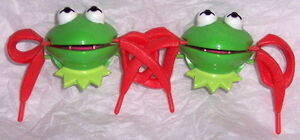 Bow Biters are plastic clips made by Brookside Enterprises in the late 1980s that can be tied into sneaker laces to help keep shoes tied. The clip has a character's face on the front that "bites" the knot when the laces are tied into the character's mouth.
Brookside made a set of Muppet Bow Biters in 1988, featuring Kermit the Frog, Miss Piggy, Fozzie Bear, Gonzo, Animal and Rowlf the Dog. Brookside followed in 1989 with a set of Muppet Lace Faces -- little Kermit and Miss Piggy heads that could be attached to the ends of shoelaces.
In 1991, Brookside produced a set of Sesame Street Bow Biters, featuring Bert and Ernie, Big Bird, Cookie Monster, and Elmo. The set was re-released in 1997, after the company was renamed Bow Biters International, and re-released again by Moto Concepts in 2005.
In 1991, Brookside also partnered with novelty watchmaker Sesame Street watches (Nelsonic) to offer a Big Bird digital watch packaged with Bert and Ernie Bow Biters.