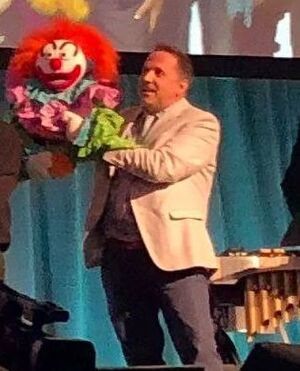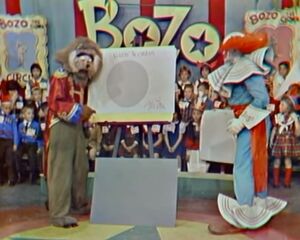 Bozo the Clown, a circus performer known for his distinctive red pointed hair, made his debut in a series of Capital Records children's albums/books (played by Pinto Colvig, the original voice of Goofy). He became Capital's mascot to the point where most of their children's records (with Bugs Bunny and others) were labeled as "Bozo Approved." Bozo achieved wider exposure in the fifties and sixties when Larry Harmon licensed and franchised the character as a children's show host in various cities, as well as producing an animated cartoon (with voices by Harmon and Paul Frees). Bozo went on to adorn punching bags, toys, comics, and other merchandise. The clown's name postdates the popular use of the slang phrase "bozo" to describe a fool or an idiot, although it since grew into wider usage as a synonym for clown.
Appearances
References
In the hair-centric "Mondo Muppet" feature in Muppet Magazine issue 12, Bozo is one of the distinctively coiffed celebrities featured.
Bozo the Magnificent is a clown magician mentioned in Sesame Street Episode 4014, when Ernie and Maria are looking online for a magician to undo Mumford's latest mistake.
Connections
Willard Scott played Bozo for WRC-TV in Washington, D.C. (1959-1962)
Caroll Spinney (credited as Ed Spinney) played Mr. Lion, Grandma Nellie, Kookie the Kangaroo, and other costumed and puppet characters on Bozo's Big Top (1959-1969)
Sources
Community content is available under
CC-BY-SA
unless otherwise noted.