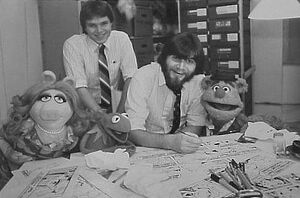 Brad Gilchrist is a cartoonist who wrote the Jim Henson's Muppets Comic Strip, with his brother, Guy Gilchrist, handling the art. The Muppets ran in over 800 newspapers worldwide from 1981 to 1985.
After writing the Muppets strip for five years, Brad and Guy struck out on their own to explore new opportunities. Brad free-lanced: writing books for Looney Tunes and Tiny Toon Adventures, assisting on art for many licensed characters, and trying his hand at toy inventing.
In 1990, Brad Gilchrist created a direct-mail program called Together Time! In conjunction with Gomola Associates, he developed a fun-filled craft kit for parents of creative children, costarring a toucan character. As a parent himself, Brad thought it would be nice to have a monthly kit which would contain ideas, materials and instructions that busy parents could use when spending quality time with their children. The kits contained a 16 page magazine, calendar/poster, stickers and craft supplies to create at least three projects. Together Time was a successful venture and at one time was mailed to 50,000 families each month. He also was the in-house cartoonist for the now-defunct Connecticut hockey team The Hartford Whalers.
In 1995, the Gilchrists heard from fellow cartoonist and friend, Gil Fox, that United Features was looking for new talent to revive the classic comic strip, Nancy (originally created by Ernie Bushmiller). The idea was to return Nancy, Sluggo, Aunt Fritzi and friends to their classic 1950s style. Once again, the Gilchrists got the job and began the "retro Nancy" in September of 1995 (with Brad writing and Guy doing the art).
Gilchrist is a member of the National Cartoonist Society. He lives in Canton, Connecticut with his wife, Bethany and two daughters, Jayme and Carly.