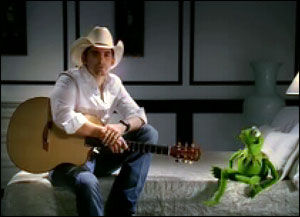 Brad Paisley (b. 1972) is a modern country music star who appeared with Kermit in a series of Target commercials advertising wake-up calls for "Black Friday" in 2005.
Paisley also appears in Elmo's Christmas Countdown. He sings a rendition of '"Jingle Bells" with Grover, who he cites as having been his favorite Muppet growing up.[1] He also appears in the prime time Sesame Street special Growing Hope Against Hunger. He appeared in two 2011 Country Music Awards spots with Miss Piggy.
Paisley is married to actress Kimberly Williams.
Six of his songs from four albums dating back to 1999, have become number one hits on the pop charts. He also wrote a song for, and appears on, William Shatner's album, Has Been.
References
Sources
External links