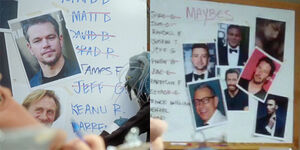 Brad Pitt (b. 1963) is an American actor best known for his roles in the films Fight Club, The Curious Case of Benjamin Button and the Ocean's Eleven film series.
References
In a 2009 Sesame Street musical segment, Ricky Gervais appears in Elmo's bedroom to perform a "celebrity lullaby." Elmo, misunderstanding that Gervais is the celebrity providing the lullaby, hopes Pitt will be coming to sing ("Elmo loves Brad Pitt.").
Pitt appears as one of the items on Veronica's "Key Demographic Analysis of Top 100 Things in Popular Culture" chart in The Muppets.
At a January 2012 press conference for the theatrical release of The Muppets in the United Kingdom, the panel (consisting of Kermit, Piggy, and director James Bobin) is asked who they would love to work with. Kermit combines Bobin and Piggy's answers and proposes that they make a "Brad Pitt/Bill Murray movie, James can direct, and if you can just get Reese Witherspoon, I'd be quite happy." (YouTube)