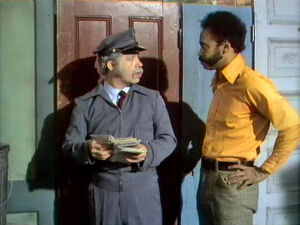 Brandon Maggart (b. 1933) is an actor who played Buddy, of the duo Buddy and Jim, in the first season of Sesame Street. Maggart also played the role of postal carrier George in Episode 0030 and the gruff-voiced hot dog vendor Mr. Glopper in Episode 0036.
Maggart studied opera at the University of Tennessee before moving to New York City. There, in addition to performing in musicals such as Kelly and the revue Leonard Sillman's New Faces of 1968, he also acted in television (with bits in such series as Car 54, Where Are You, The Defenders, and The Naked City).
Following the stint on Sesame Street, Maggart received a Tony-award nomination for his role in Applause (1970), and with James Catusi (Jim), served as associate producer of the play Hay Fever. Although his Broadway career ended in the 1980s, he continued to work in films, appearing in The World According to Garp (with Robin Williams), Dressed to Kill, and the cult "killer Santa Claus" movie Christmas Evil. Television work included guest spots on Murphy Brown, Murder, She Wrote, Newhart, ER, and The Adventures of Brisco County Jr. (two appearances as Professor Coles). He is the father of Grammy-winning musician Fiona Apple.
External links