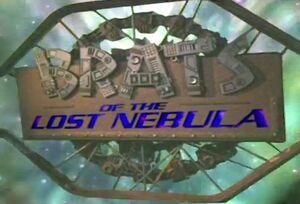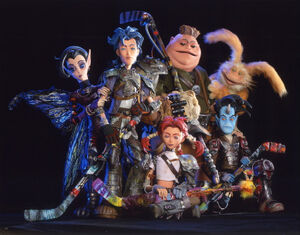 Brats of the Lost Nebula was a science fiction Saturday morning series created by Dan Clark featuring Creature Shop puppets and CG effects. The series premiered on the WB Network on October 10, 1998.
The show takes place in a mysterious galaxy known as the Lost Nebula. An evil alien army known as the Shock is systematically annihilating entire worlds. Five orphans, Zadam, Triply, Duncan, Lavana, and Ryle were separated from their families from different planets by the Shock and are sent to a strange Planetoid. Using it as their headquarters, the five orphans must band together to fight against the invading armies of the Shock.
Puppeteers included Bill Barretta, Matt Ficner, John Kennedy, Trish Leeper, Sue Morrison, Ian Petrella, James Rankin, Gordon Robertson, Fred Stinson, Jeff Sweeney, Jean-Guy White, and Mak Wilson.[1]
Episodes
What Mom Said
Total Bratification
Brain Dead
A Lozian Necessity
Heart Hunters
Punk Chip
The Runaways
Mutant Freak
Blite For a Day
The Acceptors
Faith
Mom & Dad
Papa's Got a Brand New Bag
Notes
Ironically, "Brats of The Lost Nebula" was selected by TV Guide as one of the Top Ten Children's series of the year the week WB canceled the series.
Credits
Creator: Dan Clark
Executive Producer: Brian Henson, Dan Clark, Steven DeNure
Co-Executive Producer: Margaret Loesch
Supervising Producer: Betty Orr
Executive story editors: Billy Brown, Dan Angel
Story editor: Lane Raichert
Conceptual & character design: Nathan Cabrera with Dave Pressler, Duke Cullen
Animatronic characters by Jim Henson's Creature Shop: Marian Keating, Enrique Bilsland, Jean-Guy White, Joan Parkinson, Ian Hubbard, Frank Langley, Mike Scanlan, Peter Brooke, David Barrington-Holt, Robin Dufay, Karin Hanson, Phil Jackson, Ralph Cordero, Robyn Simms, Dana Klaren, Harvey Dickson, Jill Thraves, Tristan Maduro, Jim Edson, Brian Dooley, Larry Addison Bortolott, Patrick Gerrety
For The Jim Henson Company: Ritamarie Peruggi, Halle Stanford-Grossman, Matt J. Britton, Bill Barretta
Gallery
Videos
Sources
External links
Community content is available under
CC-BY-SA
unless otherwise noted.