Breakfast with Bear is a series featuring Bear from Bear in the Big Blue House. It aired as part of Disney Channel's Playhouse Disney programming block from June 20, 2005 until September 15, 2006.
In each episode, Bear would visit a different home and follow one child's morning ritual, often beginning with a surprise wake-up call from Bear, and finishing with Bear and his new friend enjoying breakfast or heading out to school. Throughout the morning, Bear aided the child with their daily preparations, hygienic needs, games, songs, breakfast, and other daily traditions.
Segments from other shows in the programming block varied in length, so the framing sequences of the hour-long Breakfast with Bear block totaled between 15 to 20 minutes per episode.
Three original songs from the series were released on a Playhouse Disney CD in October 2005.
Episodes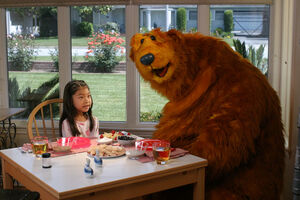 Kayla of Poughkeepsie, NY
Aaron
Rhea
Abigail of Westport, CT
Christopher of New York City's "Big Apple Circus"
Timea
Ryan of Granada Hills, CA
Rachel M. of San Marino, CA
Nicole
Sam
Brittany of Bronx NY
Amanda of Oxnard, CA
Paige of Elmont, NY
Giavanna of West Hills, CA
Mackenzie of Fallbrook, CA
Isa
Rachel of Cypress, CA
Jonathan at Fort Irwin National Training Center (U.S. Army Base near Barstow, CA)
Chelsea & Griffin
Noah of Northridge, CA
Credits
Sources
External links
Community content is available under
CC-BY-SA
unless otherwise noted.