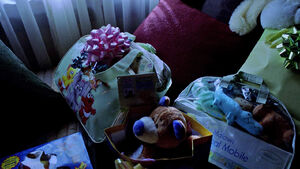 Breaking Bad is an AMC series which ran from 2008 to 2013, about a high school chemistry teacher who begins cooking meth after being diagnosed with cancer.
Muppet Mentions
In the pilot episode, the camera pans over a number of items acquired for Walter and Skyler White's expectant baby, including a diaper bag with the baby versions of Big Bird and Elmo.
In the third season episode "Más" (2010), when Jesse is at a strip club, the song "Rocket Scientist" plays including the lyric "See me on Sesame Street coolin' in a cold chillin tee."
Connections
Community content is available under
CC-BY-SA
unless otherwise noted.