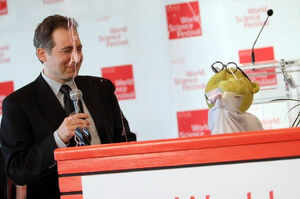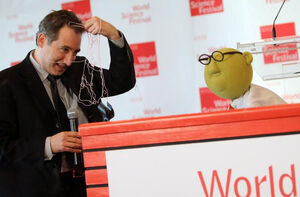 Brian Greene is an American theoretical physicist and one of the most well-known string theorists. A professor at Columbia University since 1996, Greene has published several books about his field. The Elegant Universe was turned into a PBS documentary in 2003 with an extensive segment dedicated to Albert Einstein. He recently commissioned Philip Glass to write an orchestral piece based on his 2008 novel Icarus at the Edge of Time.
Greene was one of many presenters during the 2008 World Science Festival in New York City. He and Alan Alda appeared with Dr. Bunsen Honeydew at a press conference to announce the festival's events.
"

As the presence of the Muppet, Dr. Bunsen Honeydew, on the program suggests, another large segment of the festival includes programs featuring magicians, robots, a "mathemagician" and the Disney Imagineers, who will explain how science and engineering are used to create illusions.

Popping up from behind the lectern, Dr. Bunsen Honeydew, who described himself as being from Muppet Labs, extolled the family-oriented programs. The most important thing they could show, he said, was "that science can be as explosive and violent as any TV program."[1]"
"

The Muppet reinforced [television journalist Tracy] Day's claim that the event would, "communicate real science, with integrity," as he pointed out that Greene's field, string theory, had about as much experimental support as his own silly-string theory, which seemed to involve spraying Greene with lots of the stuff.[2]

"
Sources
↑ New York Times "Coming to New York, a Science Event for the Masses" by Dennis Overbye, April 3, 2008
Community content is available under
CC-BY-SA
unless otherwise noted.