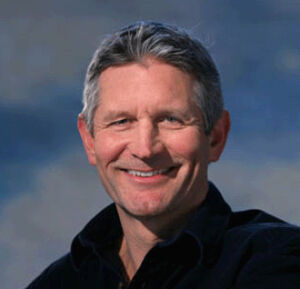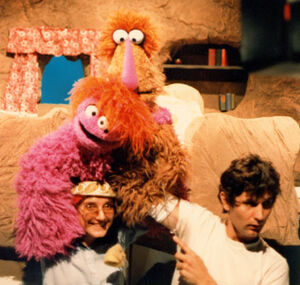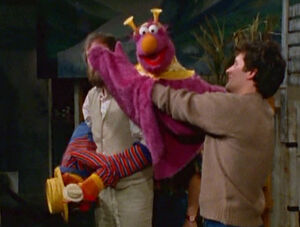 Brian Muehl (pronounced "meal"; also credited as Brian Meehl and Brian Wolfe[1]) is a puppeteer and writer who began his Muppet career on Sesame Street.
Trained as a mime, Muehl had been a member of Mummenschanz as an interpreter for Andres Bossard.[2] From there, he was cast as Barkley the Dog (taking over from Toby Towson), and he joined the Henson Company exclusively as a body puppeteer at first. He soon transitioned to performing more Muppet characters on Sesame Street, including Telly Monster, Grundgetta, Dr. Nobel Price, and was the first performer for Elmo, handling the character during his first four years.
Muehl also performed in several episodes during the last season of The Muppet Show, assisting the principal puppeteers and playing small roles. Muehl also performed multiple characters on The Dark Crystal (and along with Steve Whitmire, was one of only two puppeteers to both perform and voice a character).
In 1984, Muehl left the Muppets for reasons he later articulated in a Random House bio:
Changing his name to Meehl, to reflect the pronunciation, the puppeteer began churning out scripts for Eureeka's Castle (where he also played Bogge and Mr. Knack), PBS series Eyewitness, The Magic School Bus, Between the Lions, Cyberchase, and Codename: Kids Next Door. He reprised playing Barkley in the TV special Big Bird in Japan and returned to Muppet performing sporadically in the 1990s. He notably was a regular on Dog City and performed in several episodes of Sesame Street during season 25 (including Episode 3139, 3145, 3147, 3156, 3158, 3204, 3214, and 3261). The following season, he performed a prince in Episode 3344 and made an on-screen cameo as "Ramp Guy" in Episode 3319, followed by another on-screen appearance as a balloon salesman in Episode 3634 two seasons later. He also wrote a pair of episodes for Sesame English, "A Zoo for Jenny" and "Tingo Hears a Noise."
In 2006, he published his first young adult novel, Out of Patience, which examines such issues as baseball and toilets in small-town Kansas. In 2008, he published his second, Suck It Up, a vampire comedy which contains a brief mention of his former character Elmo.
Muppet/Creature Shop Credits
for a complete character gallery, see Brian Muehl characters
See also
Sources
External links