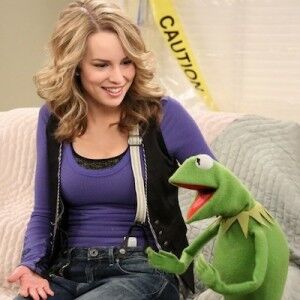 Bridgit Claire Mendler (b. 1992) is an American actress, musician, and singer-songwriter. She plays Teddy Duncan in the Disney Channel series Good Luck Charlie and starred in the made for television film Lemonade Mouth.
In 2013, the Muppets appeared in the season four premiere of Good Luck Charlie alongside Mendler. Kermit the Frog, Miss Piggy, Fozzie Bear, and Animal appeared and sang the song "Dream House" with Mendler.
Mendler filmed a cameo for the film Muppets Most Wanted alongside Debby Ryan, but the scene was cut from the film. Her scene was included in the extended version of the movie.
In 2009, Mendler became a recurring character on the Disney Channel series Wizards of Waverly Place. In December of that year, Mendler made her theatrical debut in the film Alvin and the Chipmunks: The Squeakuel. In 2012, Mendler released her debut album Hello My Name Is..., it debuted at number 30 on the US Billboard 200; her debut single off the album "Ready or Not", became an international Top 40 hit, and peaked at number 49 on the Billboard Hot 100.
External links
Community content is available under
CC-BY-SA
unless otherwise noted.