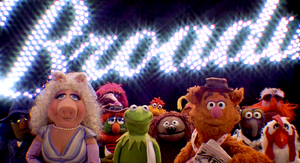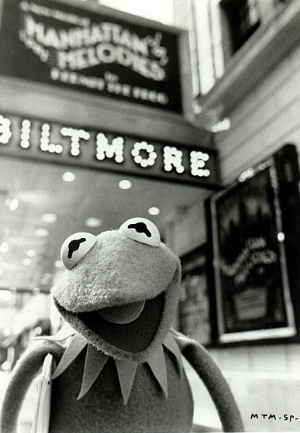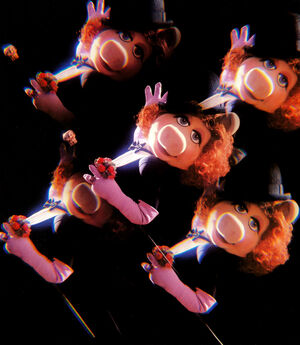 Broadway is the name given to the main theater district in New York City. Comprising 40 professional theaters located on and near the street Broadway, it is considered the center of American theater. Its British counterpart is the "West End" theatre district in London. Its roots lie in musical theater, but plays and shows of all descriptions have been staged there.
Films, musicals, songs and plays frequently portray it as the dream of young would-be theater stars to be successful on Broadway. "Broadway" is also frequently used to indicate a style of song, production number or musical play suitable for use on Broadway, and "Broadway songs" were frequently used on The Muppet Show, and many musicals and plays have been referenced by the Muppets.
In the early 1970s, Jim Henson spent some time developing a Broadway show for the Muppets called The Muppets at Lincoln Center.
In 2013, the Walt Disney Company began experimenting with the idea of a Muppet Broadway production.
References
"Lullaby of Broadway" was the opening number in episode 304 of The Muppet Show. The song is presented as a reflection on the folk music of the North American Eskimo from beyond the Antarctic Circle (or somewhere). The number closes with a New York city worker having tunneled through the tundra to comment, "Hey, Norton, I don't think this is 42nd Street," a reference to the Manhattan street which intersects Broadway.
Playbills have been created for various productions within the Muppet Universe.
Broadway shows
Broadway theatres
Community content is available under
CC-BY-SA
unless otherwise noted.